Update to post: this knife is now available to order from the Lynx product page.
We are very excited about a feature-rich new hunting knife we're working on right now. In a recent forum thread at Hunting BC, we polled hunters on features they wanted to see in the new knife. We've had really good feedback and have been incorporating the best of the suggestions into the design.
This is a CAD drawing of the current design, which we will call the Lynx. Basic specs are: CPM S35VN blade, just under 4″ long and 0.1 inches at the spine, flat (CNC) grind. Comfortable and hand-filling yet sleek handle in either G10 Hunter orange/burgundy red liner or linen micarta, held on with Torx hardware. We're also planning a hidden lanyard hole in the handle butt. Kydex sheath. Various other features still being finalized.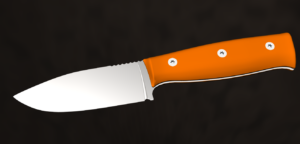 The current plan is to have the first batch ready by late February. Product launch will be at the BC Boat and Sportsmen's/BC Hunting Show, March 4-6 2016. Follow our Instagram page as the product progresses from design to manufacturing.
If you have any comments or suggestions, please leave them below.