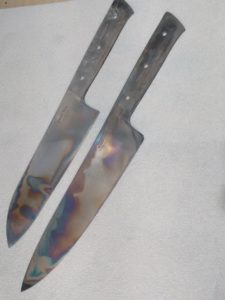 Update: the first variations of the Alder and Sitka have now been released.
We've been teasing you for a while now on our Instagram and Facebook pages with images of coming products. Next week, we will begin offering the first G10 handle variants of two new kitchen knives, the "Alder" 8 inch German/European style chef's knife and the "Sitka" 7 inch santoku.
The Alder is the heavier knife at .095′ spine thickness. If you prefer the rocking action of a German knife, this model is for you. The knife will take on all kitchen cutting jobs from opening squash to mincing herbs.
The Sitka santoku with an .080″ spine has been optimized for slicing and straight through chopping, Japanese style. It's lighter and thinner and shorter than the Alder, for those who prefer a more compact tool. We'd point you to the Alder for cutting up a Blue Hubbard squash, but for everything else it is a knife that gives elegant results.
Both models are made with our standard CPM S35VN steel and will be available in 3 G10 handle colours and both Pacific Yew and spalted Western maple.
Watch for the new product pages during the October 19-23 week. Or if you sign up for our newsletter, you will be notified when these are available from our web store.