Outdoor Knives
Showing all 4 results
Knives for camping, fishing, hunting and other outdoor use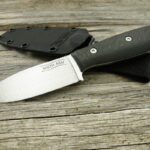 Lynx Hunting Knife with Kydex Sheath
Note: we are introducing this knife in CPM MagnaCut steel, which is an improvement over the CPM S35VN we've used for many years. You will have the option to order the knife with an S35VN blade at a discount until stock is sold.
Also, we are now offering the Lynx with an OD Green handle.
We will be posting new pictures of the knife in MagnaCut soon. For now, we've just added a single photo of the knife in orange and MagnaCut.
The Lynx's edge holding is what you need when you're kilometers from the road, it's getting dark and you aren't in the mood to battle with an uncooperative blade. 
Read more
Rated 5.00 out of 5
From:
$

140.80 USD
Select options