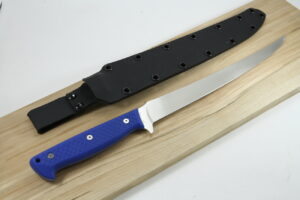 Designing with our ears
By listening, that is.
In early September we put out a call on our website and on a variety of forums (including BladeForums, HuntingBC, and BCFishingReports) for user input in designing our next knife model, a fillet knife. We wanted to hear what kind of features and capabilities were on peoples' radar for this type of knife. We consolidated the many responses into the set of requirements we already had and started our design, continually updating the community on our progress.
We started with four different first-round prototypes, roughed out in S35VN stainless steel, razor sharpened, and fitted with provisional Pacific Yew wood handles. We've filleted some sockeye salmon and even carved our (Canadian) Thanksgiving turkey. Then we bench tested them for edge retention and evaluated handle comfort, shape and utility, as well as edge angle, blade width and thickness and numerous other ergonomic factors .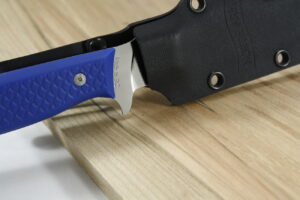 Those trials enabled us to consolidate the best of what we found into a second round prototype that we will send to selected beta testers from among the design contributors.
Availability
We are planning to have this knife ready for the Portobello West Holiday Market  in Vancouver in late November and possibly sooner online.