Maple Ridge – Pitt Meadows July 26-27
After the jam-packed Portobello West Canada Day Market in Vancouver, North Arm will be attending two other summer shows. We will have a marketplace booth at the Maple Ridge – Pitt Madows Country Fest on Saturday (10am-10pm) and Sunday (10am-6pm) July 26-27. The Fest is held at the Albion Fair Grounds, 23415-105th Avenue, Maple Ridge. Entrance to the festival is free and parking is just $2 per day.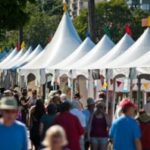 West Vancouver August 5, 6 and 7th
We will also attend the Art of Food event at the popular and highly anticipated Harmony Arts Festival in West Vancouver. The Art of Food is located at the centre of the Festival on Argyle Avenue between 14th Street and 17th Street and runs tuesday – thursday evenings August 5, 6 and 7 between 4pm and 9pm. We will be attending for the first time and are definitely looking forward to it.