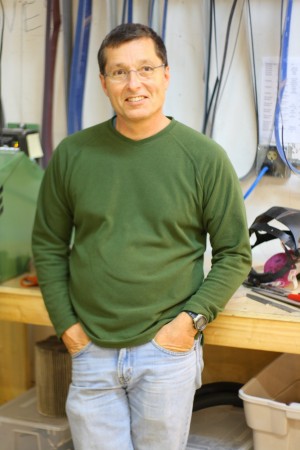 John Gudmundson (Linked-In) Owner/Operator    Before co-founding North Arm Knives John worked for over 20 years in the tech industry, primarily in network product engineering teams. He developed networking software for many years, then moved on to engineering management at several companies. In his last role at a tech company, he was responsible for initiating a Quality Management program and overseeing an ISO-9001 certification.  In his spare time he enjoys woodworking among other hobbies.
Q: What brought you to knifemaking?
A: Besides the opportunity to start a business with my son Mike, which we talked about doing for a while, there were a few attractions and motivators. First, I find it cool how enthusiastic people often are when they talk about their knives. Knifemaking also lends itself well to small scale manufacturing where quality materials and pride in production can thrive. Making knives as we are has significant technical challenges, which means there's never a dull day. When it comes to turning designs into product, our choice to use CNC to do some of what would otherwise be 100% hands-on work, allows us more time for innovating new products. Technology also lets us achieve a bit more economy of scale so we can create a familiar product line our customers can depend upon.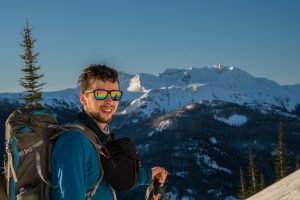 Michael Gudmundson Owner/Operator    After High school, Mike took some business courses at college and worked for a few months in a small machine shop. He also spent a year and a half working in the door hardware and access control industry, much of it on ladders, pulling wires on a large project, quickly getting a reputation as a creative troubleshooter. Mike's entrepreneurial inclinations were evident quite early when he offered his yard and garden services to first the local neighbourhood and before long to an extended circle of repeat customers who liked his work ethic and reliability. In his spare time, Mike likes the outdoors. He's an avid backcountry skier, mountain biker, climber, fisherman and hunter.
Q: Why knifemaking?
A: I was born in Switzerland and from a young age, I wanted a Swiss Army knife. When I got my first one, It kindled a love for good tools that I have to this day. My interest in knives continued, and I kept adding to my collection. In 2012 I made it a goal to buy a high quality Swiss-made  knife during a summer visit there. I decided on a "Klötzli" fixed blade made in 440C and I think maybe that planted a seed of an idea for our business because I really liked the whole concept of how those guys made knives on a relatively small scale with such class, right there in Switzerland.